Art in the (virtual) Park: 'Affordable art fair' returns, goes online for a week
---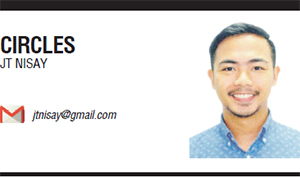 AFTER being postponed in mid-March at the onset of the Covid-19 outbreak in the country, Art in the Park 2020 is set to return next month in a new format and a longer run.
The annual one-day fair traditionally held at the Jaime Velasquez Park in Salcedo Village, Makati City, now goes online at www.artinthepark.ph from August 10 to 17. Tagged as Manila's affordable art fair, Art in the Park will still showcase artworks that are capped at P50,000.
"Appreciation to art has to be available to all," said Lisa Periquet of Philippine Art Events Inc., which is also behind Art Fair Philippines, during the event's presscon in March. "Of course, there are certain aspects of it that are very high brow, but there's something to art that should really be part of everyone's life."
Art in the Park 2020 was postponed a week ahead of its original March 15 date, which was just a day before the government imposed a total lockdown in Luzon in response to the growing pandemic that has crippled not only the country but the rest of the world. Now, the event is on again with much of its initial offerings. Still to be featured in special exhibitions are three artists handpicked by the organizers.
One is Richard Quebral, an artist from Vigan whose architecture background is reflected in his vibrant and geometric imageries. He will present a special show for the "Globe Platinum Hour," copresented by Art in the Park and Globe, titled Isometric Ay! lah, lah, land…
Quebral will, likewise, invite visitors into his art-making process through a series of videos that will be launched on Art in the Park's web site and social-media accounts. There will also be a live auction on August 16 of Quebral's largest painting among the five he made specially for the fair.
The other two featured artists are Jackie Lozano and Dex Fernandez.
Lozano will hold a virtual demonstration of her method of portraiture in "BPI Presents," a special collaboration with the Bank of the Philippine Islands.  Also in the show's lineup is an original performance by Fifth Wall Fest, a group that seeks to introduce Philippine audiences to dance films as an art form.
Meanwhile, in another special exhibit at the virtual fair, called Garapata Hatchery, street artist Dex Fernandez will be creating a special paper mural that he will section into 22 separate artworks. The pieces will be on offer after fair visitors get a glimpse of his process via a specially-produced time-lapse video. Popular artist and illustrator Robert Alejandro will also be conducting live online sessions on Art in the Park's social-media accounts.
Aside from the featured artists, a total of 53 exhibitors representing galleries, art collectives, independent art spaces, and student groups are slated to showcase artworks.
The participants include Ang I.n.K., Archivo 1984, Arnold Art Collection, ART for Space Gallery, ART LAB: Atelier Cesare & Jean Marie Syjuco, Art Underground, Art Verite Gallery, Art Wednesday, Artepintura Gallery, Artery Art Space, Association of Pinoyprintmakers, Avellana Art Gallery, Blanc, Boston Art Gallery, Cevio Art Haus, District Gallery, Famous Artists,  Far Eastern University, Galeria de las Islas, Galerie Anna, Galerie Artes, Galerie Stephanie, Kulay Art Group, Los Nuevos Conquistadores, J Studio, Kasubulan, M A G, Mono8 Gallery, Museum Foundation of the Philippines–Joe Geraldo works & Carlo Villafuerte's jewelry, Nineveh Artspace, Nord Anglia International School, Potters' Group–Jon Pettyjohn, Potters' Group–EJ Espiritu, Potters' Group–Sagada, Potters' Group–Joey De Castro, Project 20 Maginhawa, Orange Project, Resurrection Furniture and Found Objects Gallery, Sheerjoy, Silverlens, Space Encounters, TUP Fine Arts, The Authenticity Zero, The Mighty Bhutens, The Photography Zone, The Thursday Group, Tin-Aw Art Gallery, Village Art Gallery, Vinyl on Vinyl, UP College of Fine Arts, vMeme Contemporary Art Gallery, and Ysobel Art Gallery.
For a complete Art in the Park experience at home, there will be an online musical performance by independent singer-songwriter and guitarist Martti Franca on the fair's closing day.  A selection of food and drinks and special promos from Art in the Park F&B partners will also be available.
Art in the Park began in 2006 as a companion event to the second anniversary of the Salcedo Saturday Market. The concept instantly took a life on its own and evolved to a fund-raising event, with a portion of all sales donated to the Museum Foundation of the Philippines (MFPI).
For this year's unusual edition, Art in the Park will continue to help MFPI in support of their projects and programs for the National Museum of the Philippines and its network.